Friday, September 14, 2007
Saturday, July 28, 2007
"A TOUCH OF BEAUTY"
C1D studio & art gallery
12:00 TO 4:00 P.M.
$150- Includes appetizers,goodie bags,
a chance to win a pro makeup kit, and FUN!
R.S.V.P. by OCT.28 (562)262-1156
Experience the luxury of having our team of professional make up artists and hairstylists arrive to your destination, and give you the look you always dreamed of. Let us pamper you with our relaxing spa sensation to relieve you of the unnecessary stress. You will be delighted with our exceptional service and professional high quality products. Our aspiration is to create an unforgettable appearance to capture the beautiful woman within you and radiate the elegant glamour you deserve.

We specialize in any special occasion:

• Weddings
• Quinceañeras
• Proms
• Anniversaries
• Engagements
• Headshots
• Fashion Shows

For rates and additional information please contact us at:
(562) 262-1156 (562)244-3142
Hablamos español


Tuesday, May 22, 2007
Our professional photographers and videographers are driven to captivate special moments and inspire emotion through creativity. We focus on the unexpected and treasured memories that make your day unforgettable. C1D offers on-location, or private photography sessions at our studio. Our state of the art equipment will provide high quality resolution and rapid processing to guarantee faster delivery. You will be pleased with our innovative artistic style and courteous service designed to ease your day. Our ambition is to capture all of life's finer moments and compose an everlasting story for you to have as a keepsake for generations to come.

We specialize in any special occasion:

• Weddings
• Anniversaries
• Family Reunions & Portraits
• Corporate Events
• Fashion Shows
• Headshots

We also offer our studio/gallery for photographers, educators, or banquets.
Posted by

PROFESSIONAL STUDIO & ART GALLERY
at 1:30 AM
No comments: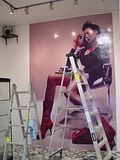 Our studio will provide you with the best in printing solutions offering a variety of professional services. We have the ability of printing large scale prints with high resolution and incredible clarity. Let our experts touch up your existing photos or restore antique pictures to bring them back to life. Our designers can provide assistance in consulting and creating professional and effective portfolios, or media kits to enhance and expose your business. C1D guarantees unsurpassed creativity and service to offer you high quality resolution and rapid processing for faster delivery.
Posted by

PROFESSIONAL STUDIO & ART GALLERY
at 1:28 AM
No comments: